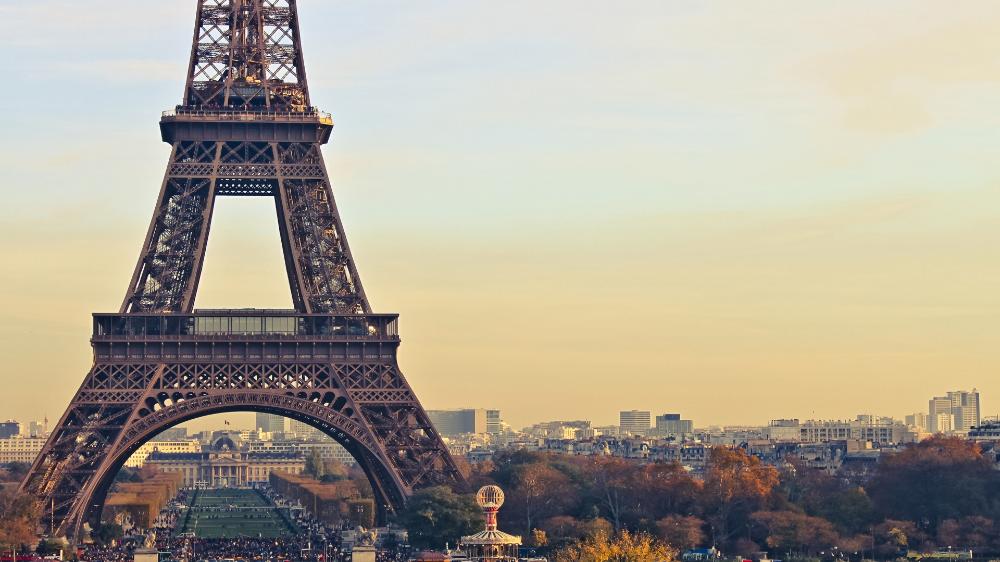 Overview
The very best way to learn to understand a language and culture is to live with and learn from native speakers. That's the idea behind the all new Hollins in Paris - French Studies program, hosted by IES Abroad. Students will be given the opportunity to immerse themselves in the French language, living with Parisian families and enrolling alongside French students at one of Paris' world-class universities.
In class, on field trips, and relaxing at home, you'll polish your conversational French and learn to appreciate French culture by immersing yourself in it. Paris is an exciting city that offers an amazing array of resources and events for students of all interests.


"Paris will be your classroom. This program facilitates full immersion in the French language and in French society through a varied and dynamic academic program, excellent homestays, cultural activities, internships, and conversation clubs. In addition, faculty members integrate course-related trips into all courses."

ACADEMICS
---
Students can choose between a variety of academic options, from area studies courses taught within IES Abroad's French Studies Center to direct-enroll courses at local universities to internships. Students will take 15-19 credits per semester, exploring French Language, history and culture. Each student will also be required to observe the IES Language Pledge, which requires that participants speak only French in the program center and classrooms, to create an immersive environment for language study.
IES Abroad has partnered with several French universities to provide students with the widest range of course topics possible. Students may take courses at the Institut Catholique de Paris (ICP), the Université de Paris-Sorbonne (Paris IV), the Ecole Normale de Musique de Paris and the Paris Marais Dance School. These universities, i
n addition to the courses taught at the French Studies Center
, offer a diverse catalog of options, from Art History to French Literature, Political Science, Music, Philosophy, Sociology and more.

INTERNSHIPS
---
Students with a high French proficiency can participate in internships at a variety of businesses and non-profit organizations for academic credit.
Popular fields include, but are not limited to:
Art Galleries
Business & Marketing
Education
Non-Governmental Organizations
All internships are taken in conjunction with the credit-bearing seminar, which will help you to contextualize the practical work experience and your immersion in French professional culture.

HOUSING AND MEALS
---
Students in the French Studies program are required to live in homestays, to continue the language immersion at home. Hosts are located in Paris or its surrounding banlieues, and placements are made with each student's needs and preferences in mind.
Breakfast is provided daily in the homestay, along with three evening meals per week, which are taken with the host family. Other meals can be purchased at the university cafeterias or in local restaurants with the additional meal stipend provided by Hollins.

EXTRACURRICULAR ACTIVITIES AND EXCURSIONS

---
The Hollins in Paris - French Studies program includes a number of field trips and events, organized by IES Abroad. These are included for no additional cost, and include local excursions within the city and to other locations in France.

Past locations have included Normandy, Fountainebleau, Chantilly and the Loire Valley!
In addition to those trips, students can participate in a number of extracurricular activities like the Weekend Conversation club, visits to museums like the Louvre and Musée d'Orsay, guest speaker events, nights at the comédie française and other Parisian theaters, etc!

OTHER PROGRAM FEATURES
---
IES Abroad requires that students take part in an on-the-ground orientation week at the start of each semester. The Comprehensive Orientation & Re-Entry Experience (CORE) begins as soon as students arrive, and covers topics like cultural adjustment, public transportation, and academic expectations. Following orientation, you will engage in a one-week, language-intensive program to prepare you for classes taught in French.

As Hollins students, you're also entitled to a number of additional features, such as a stipend to cover gaps in the meal coverage provided by the homestays, assistance with the cost of local transportation and visa support before you embark.

WHAT'S COVERED BY THE COMPREHENSIVE FEE
---
tuition
accommodations
meals
orientation on the Hollins campus and in Paris
comprehensive health insurance while abroad
program handbook and other materials
program-organized, non-optional field trips or excursions
IES Abroad student card

ADDITIONAL COSTS
---
roundtrip airfare
visa costs
books and other course-related expenses
local transportation
rental or purchase of required cellphone and usage fees
personal expenses including independent travel
optional excursions
costs associated with optional cultural activities (if applicable)
For a more detailed breakdown of costs, please view the budget sheets at the top of this page.

ELIGIBILITY
---
Minimum requirements are:
Junior or sophomore status (juniors are given priority)
Cumulative and in-major GPA of 3.0 or higher
At least 4 semesters of college-level French
One strong faculty recommendation and French language assessment
No major disciplinary infractions
Applicants are evaluated on their academic and personal maturity, flexibility, and openness to new cultural experiences. Hollins recommends approved candidates to the program, which makes final admissions decisions.

Please note: In addition to the Hollins application, you must also apply directly to IES Abroad for acceptance into this program.