Arcadia in Chile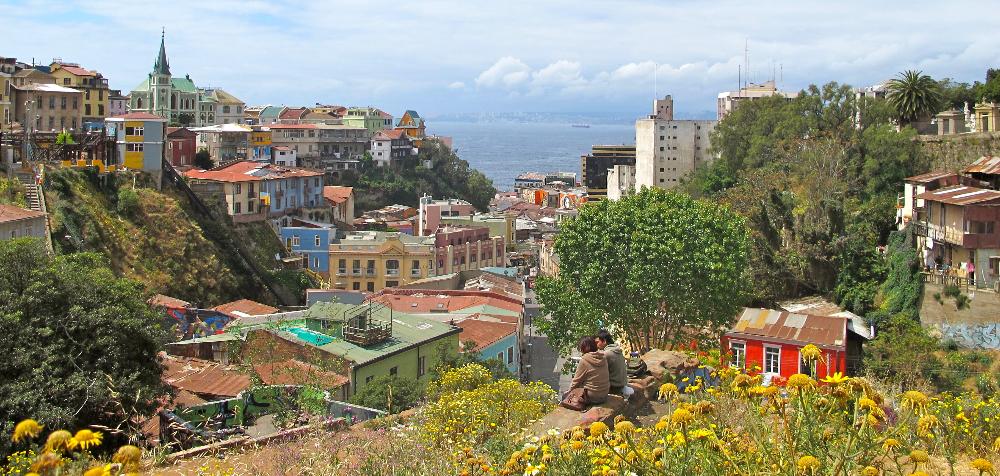 Overview
Whatever your level of Spanish, you can enjoy a semester based in the UNESCO World Heritage Site of Valparaíso, Chile, with its vibrant street art sub-culture and its architectural beauty. Learn the language, become involved in the local community and gain an understanding of the special Chilean culture, history and society.
This program, taught through Arcadia's academic partner, Pontificia Universidad Católica de Valparaíso (PUCV), focuses on Spanish language, Chilean culture and contemporary Latin American studies. If you have at least two years of Spanish language study at the university level, you can also take classes alongside Chilean students in academic departments within PUCV in various subjects.
Affiliate Program Pre-Departure Guide

Academics
Students of all Spanish levels, from beginner to advanced, will take Spanish language and Chilean culture. In addition, they will enroll in 3 electives selected from a variety of fields, including art, film, Latino studies, environmental studies and others. These electives may be taught in English or Spanish.

All students will take a placement test at the local university (PUCV) in Valparaiso during orientation to determine their Spanish language level and elective eligibility. Typical semesters include 6-7 credits of Spanish language and culture courses and 11-12 credits' worth of elective courses.

Students are required to enroll in four courses while abroad to maintain full-time status.

Housing & Meals
Students will live be assigned homestays in either Valparaíso (old city) or Viña del Mar, a maximum of 15-20 minutes from campus by bus or Metro. Each student is assigned to their own homestay, and provided with a private room and three meals per day. Laundry service and internet connections are also available.

Accommodations for non-Spanish speaking students can be provided with families that have a basic proficiency in English. Only one student will be assigned per family.

Learn Everywhere

Arcadia provides students in Chile with a number of opportunities to engage with the culture of their host country during their semester abroad. A number of learning activities (volunteer work, lectures, student clubs, etc.) are organized by staff in Valparaíso.
During on-site orientation in Chile, students will be given information on current opportunities and themes for travel and cultural engagement.
Some sample excursions include:
City tour of nearby Santiago
Visit to Pablo Neruda 's home and Isla Negra
Tour of a Casablanca Valley vineyard


What is Covered by the Comprehensive Fee
tuition
accommodations
meals
orientation on Hollins campus and at program site
comprehensive health insurance while abroad
program handbook and other materials
program-organized, non-optional field trips

Additional Expenses
roundtrip airfare
books and other course-related expenses
personal expenses including independent travel
optional excursions
costs associated with optional cultural activities (if applicable)

Eligibility
Minimum requirements are:
Junior or sophomore status (juniors are given priority)
Cumulative and in-major GPA of 3.0 or higher
Two strong faculty recommendations
No major disciplinary infractions
Applicants are evaluated on their academic and personal maturity, flexibility, and openness to new cultural experiences. Hollins recommends approved candidates to the program, which makes final admissions decisions.

Please note: In addition to the Hollins application, you must also apply directly to Arcadia for acceptance into this program.