How to Apply
How to Apply to a Study Abroad Program at Hollins
Note to all applicants:
Please be advised, by beginning an application to study abroad through the International Programs office, you agree with and understand the following statement:
"I understand that I am required to be in good academic, judicial, and financial standing with Hollins University in order to participate in any study abroad program. I further understand and agree that by starting an application to study abroad through the International Programs office, I am giving International Programs permission to request and review relevant information relating to my academic, judicial, and financial records from the appropriate University offices. I am also giving permission to those University offices to release that information to the International Programs office."

Applying to Study Abroad




Please Note: Due to the global COVID-19 (Coronavirus) pandemic, Hollins has suspended all January short term and Spring 2021 study abroad programs. At this time, we are anticipating that Hollins approved study abroad programs will run as planned in AY2021-22. However, the global impact of the COVID-19 virus is still uncertain and this may change. We are constantly monitoring the situation on the ground for all of our study abroad programs and will keep you abreast of any changes as they occur. Applications for study abroad next academic year will be open beginning October 12, 2020.
Step 1. Research programs and initiate the advising process.
Start Planning EARLY.
Explore our website and research programs by location, academic focus, language requirements, eligibility or other program parameters. Asking yourself questions like "What do I hope to get out of this experience?" "Where will I feel comfortable living?" will provide you with all of the essential abroad parameters you will need to successfully and easily complete your Study Abroad application process. We recommend that you meet with your academic advisor prior to your appointment with international programs staff. Even as a first-year student, it's not too early to discuss study abroad with your advisor.
Attend an Information Session.
Hollins Abroad information sessions are strongly recommended for any students thinking about taking part in a study abroad experience during their four years. The International Programs staff will cover basic information about available programs, the application process, and funding opportunities. You'll also have an opportunity to talk with past program participants who are enthusiastic about sharing their abroad experiences.
An information session will be held early in the Fall and Spring semesters each year. Keep a look out for the dates, which will be posted on our social media sites (Facebook and Instagram), as well as on fliers across campus.
Create a StudioAbroad Account.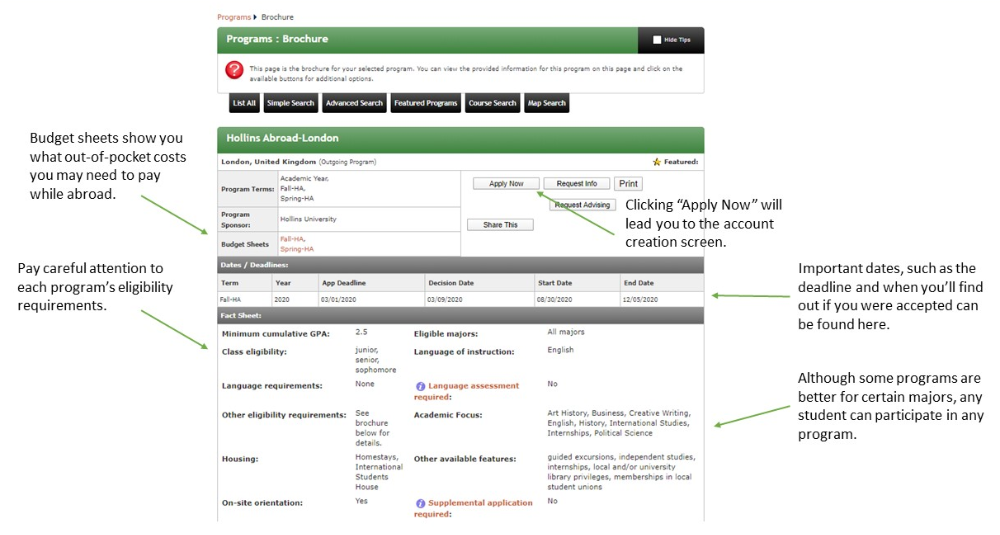 When you click on the "Apply Now" button on a program brochure page, the system will prompt you to create an account. Follow the User Identification Wizard to create your personal applicant homepage. Your login information will be emailed to you within the hour of your request. You will have 7 days to log in before that specific login expires. The login email will come from "hollins.studioabroad.com." Please be sure to check your spam folder in case the login email is misdirected. After you create your account and login, be sure to change your password.
NOTE: If you have problems with your account, email us at
abroad@hollins.edu
so we can help you resolve the issue and contact the website administrator on your behalf.
Complete your Advising Questionnaire.
Once you've created your StudioAbroad account, you should immediately be taken to your advising questionnaire. Completing this questionnaire honestly will help our International Programs staff to connect you with the program that best fits your academic needs and interests, and to schedule an in-person appointment (required for most study abroad programs).
Make sure to click submit once you've finished it!
Meet with International Programs Staff to Complete Your In-Person Advising Session.
All available programs outside of Hollins Abroad - London require that you meet with the coordinator or director before beginning your application. Once you've met with a staff member in person, your program application will be opened for you. The next time you log in to StudioAbroad, you'll be able to access it and get to work!
You can also
schedule your appointment online
.
Step 2. Complete your program application in StudioAbroad.
Be sure to complete your application by the dates listed below:

All deadlines are 11:59 p.m. on the date they occur.

You can also see your program's particular deadline on its brochure page. The decision date posted next to the application deadline indicates the day that decisions for Hollins students will be posted. Non-Hollins students will be notified on a rolling-admissions basis.

Be sure to complete all application requirements including materials, which must be uploaded to the Attach Documents section of your application, as well as necessary signature documents. All applications also require an essay, included in the application questionnaire.
Check your applicant homepage frequently to confirm the status of your application. As we receive your application materials, including faculty recommendations, those items will be checked off your status page. It is your responsibility to confirm completion of your application before the posted deadline.


Step 3. Commit to your program of choice and complete all post-decision requirements.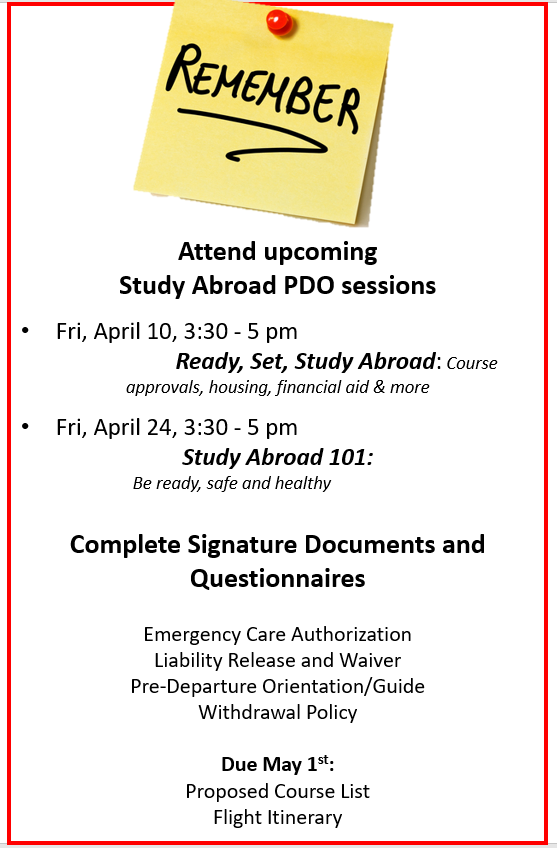 You will be notified via email when a decision has been made on your application. Log in to your applicant homepage to view the status of your application and your decision letter.
Within two weeks of acceptance to a program, you must complete most of your post-acceptance materials, including your commitment to the program, which you will find on your applicant homepage. This means you are accepting your placement in the program. After this point you may not withdraw unless you communicate your intentions in writing to the director of International Programs. Withdrawal after this period may also incur financial obligations, which will be billed to your Hollins account.

Some post-decision requirements (visa interviews, flight purchases, proposed courses for your semester abroad) may not be possible to complete within two weeks of your acceptance to the program. In those cases, you will have a separate deadline listed, which may be later in the semester.

Pre-Departure Orientations
All Hollins applicants are required to attend the on-campus pre-departure orientation sessions. Orientation dates will be posted in the "Announcements" section of your application. These sessions will cover all the information you will need to successfully prepare for your semester abroad, including in-house guidance on registering for courses, securing housing and mental health resources, as well as in-country information on adjusting to a new culture and making sure you're safe abroad.
The series of orientations are mandatory for any student accepted for a study abroad program and are held over the course of a few weeks each Fall and Spring semester.
Re-Entry Session
Once you return from your program, you will be required to participate in a re-entry session, which is designed to re-acclimate you to life on campus following your semester abroad. It's also a great opportunity for you to share your experiences, talk about how studying abroad has impacted your future plans or goals, and share any improvements that International Programs could make going forward.

Non-Hollins Students Applying to London:

Please follow your institution's guidelines for study abroad advising. Please note, you will not need to complete in-person advising to apply online to London; that requirement is only for Hollins students.

* If the "Apply Now" button is gray, the application cycle is not yet open or it is past the deadline. Check back later when a new application cycle opens.

Important Note (for All Students) on Passports and Visas:

Your passport must be valid for at least 6 more months at all times while you are abroad. So, if you already have a passport, check it now to see if you need to renew it. While the International Programs staff will provide visa guidance where possible, it is your (the student's) responsibility to possess a valid passport and secure the proper visa in order to study abroad.
---