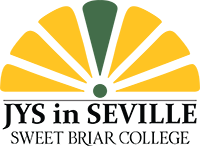 JYS in Seville, Spain
Sweet Briar College's Junior Year in Spain (Seville) is designed to give students an opportunity to immerse themselves in the language, culture and academics of a Spanish institution. Its unique blend of extracurricular activities, internships, volunteer opportunities and classes will allow students to experience the community and culture of Seville in a way few visitors can. Established in 1983, the JYS in Seville program offers an established course listing for a variety of majors and interests.
Affiliate Program Pre-Departure Guide

ACADEMICS
Sweet Briar's JYS in Seville program offers courses in Spanish, as well as seminars exclusive to JYS students. All classes are taught in Spanish, whether they are hosted at the University of Seville, or at Sweet Briar's JYS Student Center.
JYS in Seville's academic strengths are in the School of Philology and School of Geography and History, though courses are offered in Economics, Communications, Mathematics and Psychology as well. Students may also enroll in Cursos Concertados, which feature a more unorthodox instruction method. All regular university courses and cursos concertados are taught by professors at the University of Seville, and are designed for non-native speakers of Spanish.
All students are required to enroll in a two-part exploration course.
This three credit course is designed to help participant transition into life and studies in Seville, and will focus on developing students' language proficiency, as well as their knowledge of the city they will be living in. The two-week, intensive Part I of the course includes visits to a number of sites throughout Seville and instruction in Spanish grammar and oral-aural skills. Part II runs for the length of the semester, and is taken in conjunction with students' university courses. It will include field trips to Madrid, Cordoba, Rhonda and Granada.
Due to the fact that JYS in Seville offers course instruction in Spanish only, students must meet a language requirement. Following acceptance into the program, applicants will be placed in one of two levels based on their Spanish proficiency.
High Intermediate
— 3 semesters of college Spanish prior to studying in Seville.
At this level, students are required to take the Advanced Composition and Conversation Seminar
High Intermediate students may not enroll in regular university courses
For year students, these restrictions apply only during the first semester.
Advanced
— 5 semesters of college Spanish prior to studying in Seville.
All courses are open to this level.
Students are encouraged to take at least 1 regular university course.
Native speakers are not required to complete the same number of courses. Instead, they must submit to a phone or Skype interview to confirm proficiency.
Students must enroll in four courses during each semester abroad.

HOUSING & MEALS
Just as with the Hollins Abroad programs, Sweet Briar's JYS in Seville maintains a well-established network of homestay providers in the city. Students will be matched to a host family based on their preferences and compatibility. Most, if not all, students will also be matched with a roommate.

Every homestay is located in one of four centrally-located neighborhoods, within close travel distance of both the University of Seville and JYS Student Center, where classes are held.

JYS provides three meals per day, the cost of which is included in your program fees. Any additional meals are the student's responsibility.

INTERNSHIPS & VOLUNTEER OPPORTUNITIES
JYS provides students the opportunity to participate in an internship for academic credit. Research conducted during an internship may be accepted by Hollins University as worth up to three credits. Students who choose an internship as part of their study abroad curriculum are expected to commit 3-10 hour, weekly, to the organization or business with which they are matched. The total hours completed during the semester must equal 35.
Students can also participate in one of JYS in Seville's many volunteer opportunities. Though work done with these organizations cannot count toward academic credit, volunteering with these non-government organizations can provide an unparalleled immersion in the local community and its development, as well as a different perspective into current global affairs. All students who complete their service will receive a certificate of contribution.
Other Program Features
In the interest of connecting students with the Sevillian community, JYS provides an Extracurricular Activities Coordinator to match students with non-academic activities like the volunteer opportunities and internships. Students can also be matched with classes in subjects like cooking, dance (flamenco), studio art and riding, among others. These extracurricular classes may carry an additional cost.
JYS in Seville also includes a number of field trips to culturally and historically relevant sites throughout the country. Students will spend bewteen 35-40 hours in the following locations:
Province of Cádiz — City of Cádiz on the Atlantic Ocean
Province of Córdoba — City of Córdoba and a guided tour of the Cathedral of Córdoba (Mezquita)
Province of Granada — City of Granada and the Alhambra
Province of Málaga — City of Ronda that dates back to the sixth century BCE, dramatically perched atop a 100-meter canyon, where students visit the Ronda Bullring, one of the oldest bullrings still in use in Spain
City of Madrid — The capital city of Spain

WHAT IS COVERED BY THE COMPREHENSIVE FEE
tuition
accommodations
meals
orientation on Hollins campus and at program site
comprehensive health insurance while abroad
program handbook and other materials
International Student ID Card
program-organized field trips to various sites throughout Spain

ADDITIONAL EXPENSES
roundtrip airfare
books and other course-related expenses
personal expenses including independent travel
rental of studios and instruments
not-for-credit lessons and classes (dance, music, cooking, etc.)

ELIGIBILITY
Minimum requirements are:
Junior or sophomore status (juniors are given priority)
Cumulative GPA of 3.0 or higher
GPA of 3.0 or higher in major
At least 3 semesters of college Spanish prior to studying in Seville (students enrolling in the Advanced language track must have taken 5 semesters)
Two strong faculty recommendations, including one from a faculty member in Spanish
No major disciplinary infractions
Applicants are also evaluated on their academic and personal maturity, ability to work independently,flexibility, and openness to new cultural experiences. Hollins recommends approved candidates to the JYS in Seville program. Sweet Briar College makes final admissions decisions.**
**Please note: In addition to the Hollins application, you must also apply directly to JYS in Seville for acceptance into this program.