January Term in Alicante, Spain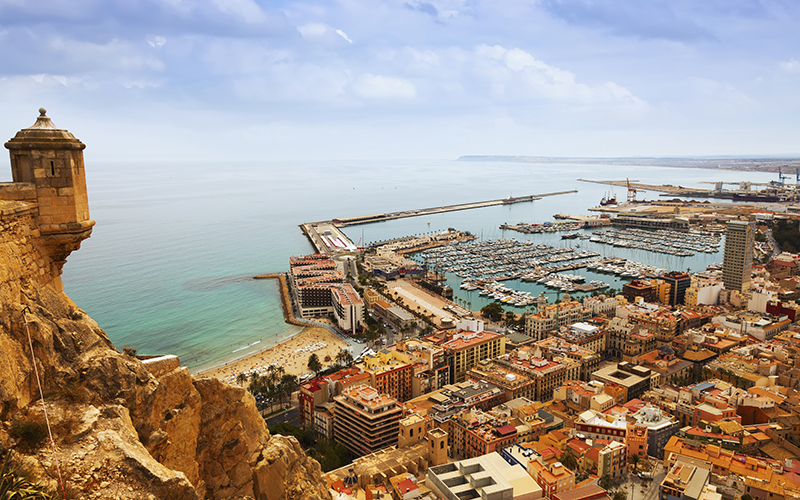 Each January, Hollins students are offered the option of an intensive 3 1/2-week Spanish language experience at Universidad de Alicante. This short term program is designed to be taken on its own or as preparation for the Spring Semester Program. Alicante, the jewel of the Costa Blanca, boasts a Mediterranean coastal climate and lifestyle. A rich history of sea merchants and conquerors has shaped this vibrant and modern city's unique Spanish character.
January Term in Alicante offers you an excellent opportuntity to develop your Spanish skills while you enjoy the benefits that a city by the sea offers: downtown beaches, water sports, and a temperate climate. Enroll in up to six credits of Spanish language and culture. Students live in Spanish homes and participate in study tours, cultural events, and social activities. This 4-week session is an ideal short-term study abroad experience.
CC-CS Winter programs feature all-inclusive program-sponsored excursions which may inlcude:
Castle of Santa Bárbara
Cathedral of San Nicolás and Basilica of Santa María
Local museums, such as the Bonfires Museum, Museum of Fine Art, and the Museum of Archeology
Local day trips to locations such as Valencia or Orihuela
Academics
Classes meet Monday through Friday for 4 hours per day
Average class size: 10-12
4 semester credits
All courses are taught in Spanish by highly qualified Spanish university professors with extensive experience in teaching American students.

Housing and Meals
Students are housed with a Spanish host family and all meals are provided.
Eligibility
Students accepted to the program must be in good academic and disciplinary standing and have Hollins' approval to participate.
Prerequisite for Intermediate:
Two years of high school Spanish/one year of elementary college Spanish or the equivalent
Prerequisite for Advanced:
One year of intermediate college-level Spanish or the equivalent
3.0 GPA in Spanish coursework required

Cost
The cost for the program is approximately $3,900 and includes fees for tuition and housing, all meals and a n International Student Identity Card. It does not include transatlantic transportation, or any personal travel or expenses. Hollins students are billed for this program with their spring term bill, which is issued on December 1 and due on January 1.
Transatlantic Transportation
Participants make their own round-trip travel arrangements to Alicante. You should book a flight that leaves on the afternoon or evening before your date of arrival. As this is a holiday period, we recommend that you book your flight as early as possible.