Arcadia in Chile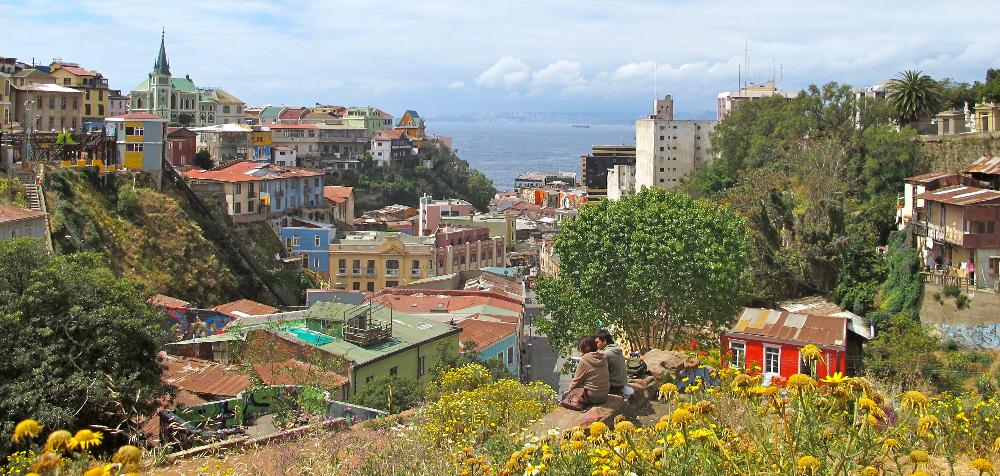 Whatever your level of Spanish, you can enjoy a semester based in the UNESCO World Heritage Site of Valparaíso, Chile, with its vibrant street art sub-culture and its architectural beauty. Learn the language, become involved in the local community and gain an understanding of the special Chilean culture, history and society.
This program, taught through Arcadia's academic partner, Pontificia Universidad Católica de Valparaíso (PUCV), focuses on Spanish language, Chilean culture and contemporary Latin American studies. If you have at least two years of Spanish language study at the university level, you can also take classes alongside Chilean students in academic departments within PUCV in various subjects.

Learn Everywhere
With Arcadia, you learn beyond the classroom: While listening to the music of street performers you try to identify the unfamiliar aroma of local cooking wafting from the street vendors, and wonder about the ancient customs you see being played out before you in a community that's embraced you as a friend. You don't just visit a landmark or tour the city – you engage with the culture of the place; its people, its environment and its traditions – and we'll be there to facilitate that integration. What will you learn about other ways of life? About the importance of understanding difference in today's globalized society? About yourself?
Our staff and faculty will help you to look beneath the surface of everyday life and begin to understand what it means to be from Chile. While we intentionally emphasize opportunities to engage with the culture through your course options, there's also a world of learning beyond the classroom. We'll open the doors; but it's up to you to grasp the opportunity and enjoy a life-changing experience. During orientation, you'll start your journey of discovery and learn about this year's themes and the practical help we provide including discounts and deals for cultural activities, travel and accommodation.
Learning Beyond the Classroom – Dive into a wide range of learning activities, such as volunteer work, lectures, student clubs, new hobbies, and excursions. You can choose your own direction or follow our lead through the options we coordinate.
Co-curricular Learning Certificate (CLC) – Document this learning to demonstrate to potential graduate schools and employers how your activities have changed you.
Life of The Mind – Engage in activities and reflections centered around our annual intellectual theme connecting all Arcadia students around the world in the fun of exploring culture in a world of difference.

Beyond the Classroom: On-site Study & Excursions
Learning outside the classroom takes many shapes and forms, including on-site study or excursions to fascinating places of interest that enhance your cultural immersion and give a meaningful context to your academic courses. The exact excursions you will participate on depend on your program choice, term of study and, in cases where extra non-program specific excursions are offered, your own personal preference.
Program highlights:
Exciting and meaningful opportunities for community engagement, travel and excursions in Chile are arranged by the PUCV international office each term.
Homestay with local families is a highlight of the experience and helps you gain cultural and language immersion during your time in Chile. You live with families in Valparaiso or the nearby resort town of Vina del mar.
Chile has distinctive regions and micro-climates, from the Atacama desert in the north to Patagonia and the Bio Bio valley in the south - you can explore these areas through independent or partner university organized travel.

Academics
Students of all Spanish levels, from beginner to advanced, will take Spanish language and Chilean culture in addition to electives of their choice that are taught i
n English or Spanish. All students will take a placement test at PUCV during orientation to determine Spanish language level and elective eligibility. There are a variety of interesting and compelling courses in Latin American studies available to studies of all levels at PUCV's international school, as well as the possibility to enroll directly in a specific academic department to take courses with Chilean students.
Typical semesters include 6-7 credits of Spanish language and culture courses and 11-12 credits' worth of elective courses.

Examples of Electives:
Contemporary Latin American Literature
Ecoliterature/Ecocriticism: Representations of Nature in Contemporary Latin American Literature
Latin American Gender Studies
Political and Social Change in Chile and Latin America
The most up to date information on available course options will be found under courses on the Arcadia in Chile webpage.


Housing
During your time in Chile, you will live with a local family in either Valparaíso (old city) or Viña del Mar. While living with your homestay family, you will have a single bedroom and be provided with three meals each day. Laundry service and internet connections will also be available. Most homes are 15-20 minutes to campus by bus or Metro.

Accommodations for non-Spanish speaking students can be provided with families that have a basic proficiency in English. Only one student will be assigned per family.

Please note: In addition to the Hollins application, you must also apply directly to Arcadia University: College of Global Studies for acceptance into this program.